Welcome Pack
Introduction

Lord Robert Baden-Powell started the Scout movement to provide a worldwide, value based, educational movement.

Today there are well over 30 million members in 216 countries.

The Scout Movement started in the UK in 1907. The movement is firmly committed to co-education so both boys and girls can meet the aims through one program.

The aim of Scouting is to promote the development of young people in achieving their full potential. These aims are achieved through exciting and adventurous activities with progressive training based on the Scout promise and laws.

---
All uniformed leaders are DBS checked and undergo extensive training.   Check out the website for details of the leaders of each section.

All helpers also undergo DBS checks and are not left un-supervised with the young people, in accordance with Scout Association rules.

All parents of children in the group will need to complete a general consent, and emergency contact form.
Special events require separate consent forms which need to be completed and signed before the young take part. Booking for these happens online on our website

---
Parents wishing to stay at meetings or help occasionally at meetings or camps must be DBS checked. If you wish to have a DBS check in case you may like to support the group in the future. Please speak to a leader for more information.

The age ranges for the different sections are as follows: Beavers 6-8; Cubs are 8 to 10 ½ and Scouts run from 10 ½ to 14 ½. After the Scouts there is a district Explorer section to 18 years old.

Meeting Times
| | | | |
| --- | --- | --- | --- |
| Time | 18:00 — 19:15 | 18:30 — 20.00 | 19:30 — 21:00 |
| Meeting Place | Coffee Shop Small Room | Coffee Shop Large Room | Coffee Shop Large Room |
| Subs monthly standing order | £12.00 | £12.00 | £12.00 |
Subs
Subscriptions are paid monthly and provide our income to cover our running costs, activity badges, hire of the hall, resources etc, and the annual membership (capitation) fee to Scout headquarters. As we pay an annual fee for every Beaver, Cub and Scout in the group, we must ask for subs to be paid even if your child does not attend. Subs can only be paid via Standing Order,  The Standing Order needs to be set up ideally before your child's first meeting date, but certainly no later than by the time your child is invested.
Beavers

What is Beaver scouting?
Beaver scouts belong to the first and youngest section in the scouting family.
Beaver scouts are recognised by their distinctive turquoise sweatshirt and their group scarf.
Beaver scouts enjoy making friends, playing games, going on visits, helping others and being introduced to scout craft.
How do I become a Beaver Scout?
Beaver scouts start at 6 years old. At times there is a waiting list, it is advised that parent speaks to leaders before the child's 6th birthday.
Once the young person has attended for about four or five weeks, you will be advised to buy a uniform, once you have a uniform then you can be invested as a Beaver Scout.
What is involved in being invested?
In front of your fellow beaver scouts, you make a promise, you will know the promise and understand the Beaver scout motto. When getting invested you will be given some badges and become a member of the worldwide scout movement.
The Beaver Scout Promise
The Beaver Scout Motto
I promise to do my best,
To be kind and helpful,
And to love God.
Fun and Friends.
–
Be Prepared.
Beaver Scout Badges
When you join, you will be given a world badge, district badge, county badge and a group name tape. These will be explained later on in this document. During their time in Beavers, the young people will work towards 'activity badges' which are round and worn on the right sleeve. There are 19 activity badges in total. Details of the requirements for each badge can be found on scouts.org.uk.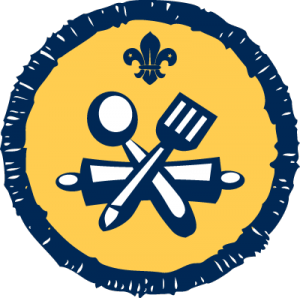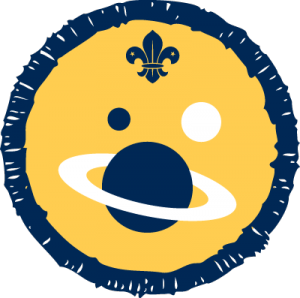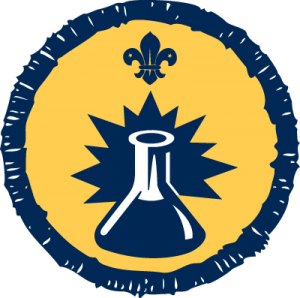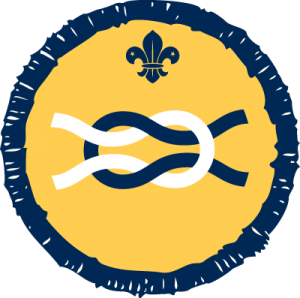 There are also 6 'challenge badges' which are diamond shape, which lead on to the Chief Scouts bronze award. These badges are worn on the front of the Beaver jumper, are slightly harder and take longer to achieve.
---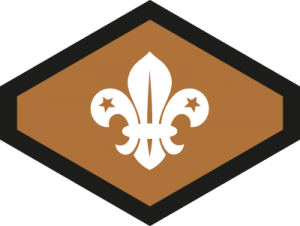 Cubs

What is Cub Scouting?
Cub Scouts are the second of the five sections in scouting.
Cub Scouts were once called Wolf Cubs The Wolf Cubs Section began in 1916.
Cub Scout Leaders are sometimes called Akela after the wolf pack leader in Jungle Book by Rudyard Kipling.
Cub Scouts will spend time together in a team called a Six. An older Cub Scout, called a Sixer, leads each Six. A Sixer is a bit like a team captain.
How do I become a Cub Scout?
Speak to the Cub leader leading up to your 8th birthday or move on from Beavers.
Once the young person has attended or visiting from beavers for about four or five weeks, you will be advised to buy a uniform, once you have a uniform then you can be invested as cub scouts.
What is involved in being invested?
The investiture is a special ceremony where you officially become a Cub Scout. You will be asked if you wish to join the Cub Scouts and make a promise. After you have made you promise in front of your fellow Cub Scouts and family members, you will be given a World Membership Badge.
The Cub Scout Promise
The Cub Scout Law
The Cub Scout Motto
I promise to do my best,
To do my duty to god
And the queen, to help other people
And to keep the Cub Scout Law.
Cub Scouts always do their best think of others before themselves and do a good turn every day.
Be Prepared
Cub Scout Badges
As with Beavers the Cubs can earn badges however they are a little more involved and take longer to complete. There are 7 challenge badges and 36 activity badges. Cubs can also go on to earn the Chief Scouts silver award.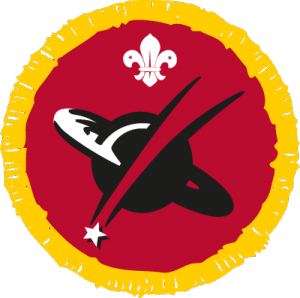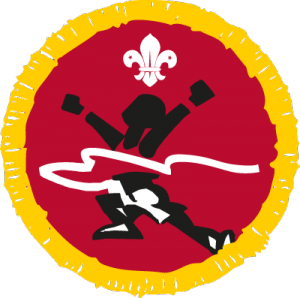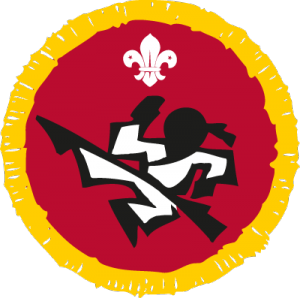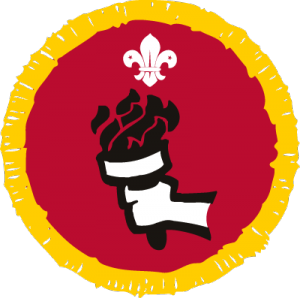 ---
---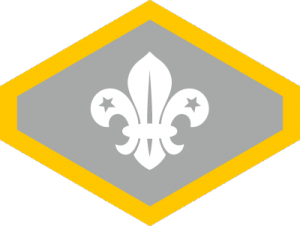 ---
For further information on the badges Cubs can earn please ask a leader or look at www.scouts.org.uk
Scouts

What is Scouting?
The Scouts are the original section which was founded by Baden Powell.
Scouts are given the opportunity to take part in activities such as gliding, canoeing, camping, hiking, shooting and many more.
Where Cubs are split into sixes, the Scout troop is split into patrols. Each patrol has a patrol leader (PL) and assistant (APL).
How do I become a Scout?
Speak to the Scout leader leading up to your 10th birthday or move on from cubs.
Once the young person has attended or visiting from Cubs for about four or five weeks, you will be advised to buy a uniform, once you have a uniform then you can be invested as Scouts.
What is involved in being invested?
The Scouts being invested stand in front of the rest of the troop, place their left hand on the flag and make the Scout sign with their right hand. They then make their Scout promise.   There are alternative versions of the promise to recognise differing beliefs of young people,   please discuss with the scout leader which promise will be used.
The Scout Promise
The Scout Laws
The Scout Motto
On my honour I promise
To do my best
To do my duty to God and the Queen
To help other people, and to keep the Scout law.

A Scout is to be trusted.
A Scout is loyal.
A Scout is friendly and considerate.
A Scout belongs to the worldwide family of Scouts.
A Scout has courage in all difficulties.
A Scout makes good use of time and is careful of possessions and property.
A Scout has self-respect and respect for others.

Be Prepared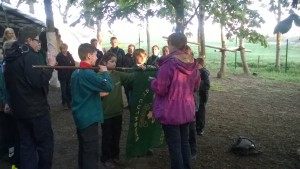 The Scout Handshake
The Scouts shake with their left hand.  This goes back to Lord Baden-Powell who began scouting.  When he was a soldier in Africa he saw a large number of tribal chiefs who carried spears and shields.  He noticed that it was a sign of great trust to offer your left hand when shaking hands.  This was because you had to put down your shield and yet leave the other person holding a spear.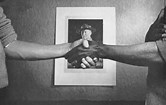 The Scout Salute
The Scout salute is made with the right hand.  It is used during the opening ceremony on Pack night.  It is also used at other times when, for example, you are presented with a badge.
The Scout Sign
When you make your Promise you will use a special kind of salute.  This is called the Scout Sign. It is the same as the Salute but you hold your hand at shoulder height.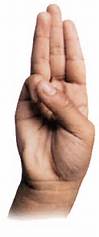 Scout Badges
As with Beavers and Cubs, the Scouts can earn activity and challenge badges, and the Chief Scouts gold award. Again, these are slightly harder and take longer than they do in the Cub and Beaver sections. Some badges bring, or require a recognised qualification, such as St. Johns Ambulance, and the British Canoe Union.
---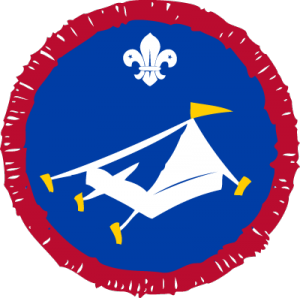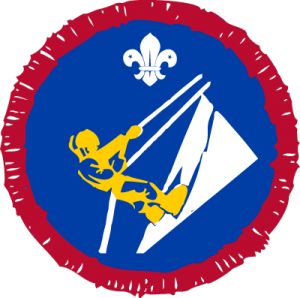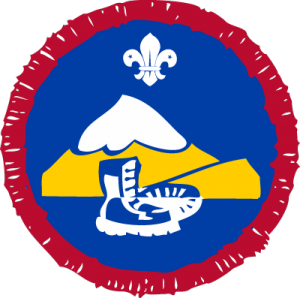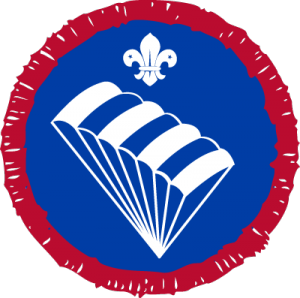 ---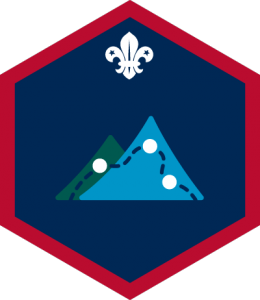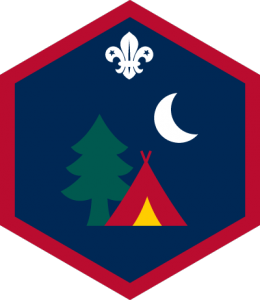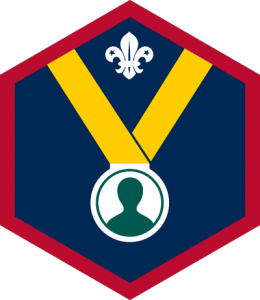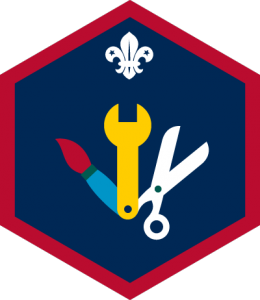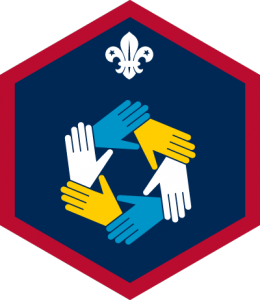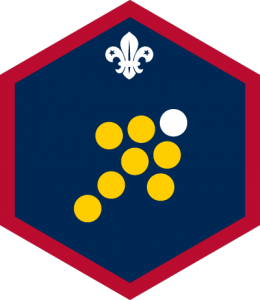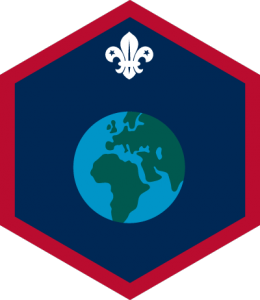 ---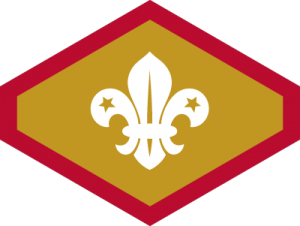 For further information on Scout badges, see scouts.org.uk.
Investiture badges and Uniforms



The badges above are the World badge, County badge, District Badge and Group Name Tape. The World Badge, or a version of it, is worn by over 28 million scouts worldwide.   The county badge bears the cross of St Cuthbert and the district badge a roman helmet, representing Chester-le-Street's Roman heritage. You will get these badges when you join your section, and should be worn with pride.
Where do they all go?

The images above can also be found on the Scouts Website, scouts.org.uk.
Where can I buy the uniform?
Uniforms and Scout related items can be bought online from the Scouts Website or items can be bought at the County's Scout Shop at Moor House.
Moor House can be found four miles northeast of Durham City, just off the A690, 1 mile east of junction 62 of the A1M (opposite Ramside Hall Hotel and Golf Course). The site is accessed from the top of the lay-by on the A690, through white iron gates and down a private tarmac road to a large, tarmac, well-lit car park.
The onsite shop sells the range of Scout and Guide uniform, badges, literature, accessories and gifts, as well as souvenir badges, mugs and woggles with the campsite bat logo on.
The Scout shop is open Wednesday 10 – 8, Saturday 10 – 4, Sunday 12 – 4. If you would like to check availability of stock or place an order ring 0191 5841248 during opening times or you can email shop@durhamscouts.org.uk.
Our History
You can find out about the history of our group by taking a look at the Our History page.
The Leadership Team
To find out more about our leadership team, take a look at the Our Leaders page.
The End!
You have come to the end of this information pack. We hope you have found this useful and that it answered some questions. If not please ask speak to the relevant section leader, or contact them via the web site.
Feel free to take a look around our website for more information, there are also a number of Photo Galleries showing the kinds of things our young people get up to.
Our Group website contains up to date information on everything the group is involved in, from booking camps to profiles of our leaders. If in doubt about anything, meeting arrangements, camp details, trips etc, check the website first.